Despite spending thousands of hours a year looking at candidates, it wasn't always easy to quickly tell if someone would be a good fit. Before The Hiring Engine, the HR team at Alliance relied almost entirely on hiring sites like Indeed and Michigan's unemployment board to bring in people. Indeed would produce hundreds of applicants, but only a few of the applicants would be qualified. At the same time, Michigan's job board allowed employers to search for specific licenses and certifications, but oftentimes the individuals from those boards were only listed there because they had to be. Occasionally, applicants from the Michigan board and Indeed would apply just to fulfill unemployment requirements instead of out of an interest in the position. Situations like these were disappointing and almost impossible to detect from just a resume. 
Not only was reviewing applications taking up precious time, but Alliance's methods of reaching out to candidates and sharing applications weren't able to scale along with the company. Every day, Brandy would go into Indeed, print out all the applications, see if there was any overlap between online applications and physical resumes, then write down the date she called each candidate on a piece of paper. Unless Susan or Meaghan saw that written note about the candidate, they would have no idea if someone had reached out yet, or if they were doing the same work twice. 
Beyond risking redundancy in the process, it was time-consuming to share applications across different departments. Susan and the others had to download an applicant's resume, write up some context, and send the email with the resume attached to the departmental hiring manager. Alliance knew there must be a better way.
Getting started with The Hiring Engine
Instead of spending another year trying to keep up with the massive volume of jobs they needed to fill, Alliance brought on The Hiring Engine to revolutionize their hiring practices. As a result, Alliance has filled dozens of positions for a fraction of the cost and time it took before.
Improved Outreach Using the All-In-One Messaging Platform
Susan and the rest of the Alliance team no longer have to worry about crossed wires when reaching out to applicants. With the All-In-One messaging platform, all outreach to an applicant over email, call, or text is there for everyone to see. Instead of calling an applicant time and time again, Susan and everyone on the HR team is able to reach out in under 10 seconds. 
This ability to hear from job-seekers right away sold Susan on The Hiring Engine. Originally, she would have to look for her notes on a candidate, make sure to mark them in Alliance's hiring spreadsheet, and then hope they answered the phone when she called. By adding in text messaging, she was now able to reach out to dozens of applicants and hear back from them just a few minutes later. As Susan puts it, "Texting has saved me the most time, I no longer have to call people that just aren't going to answer".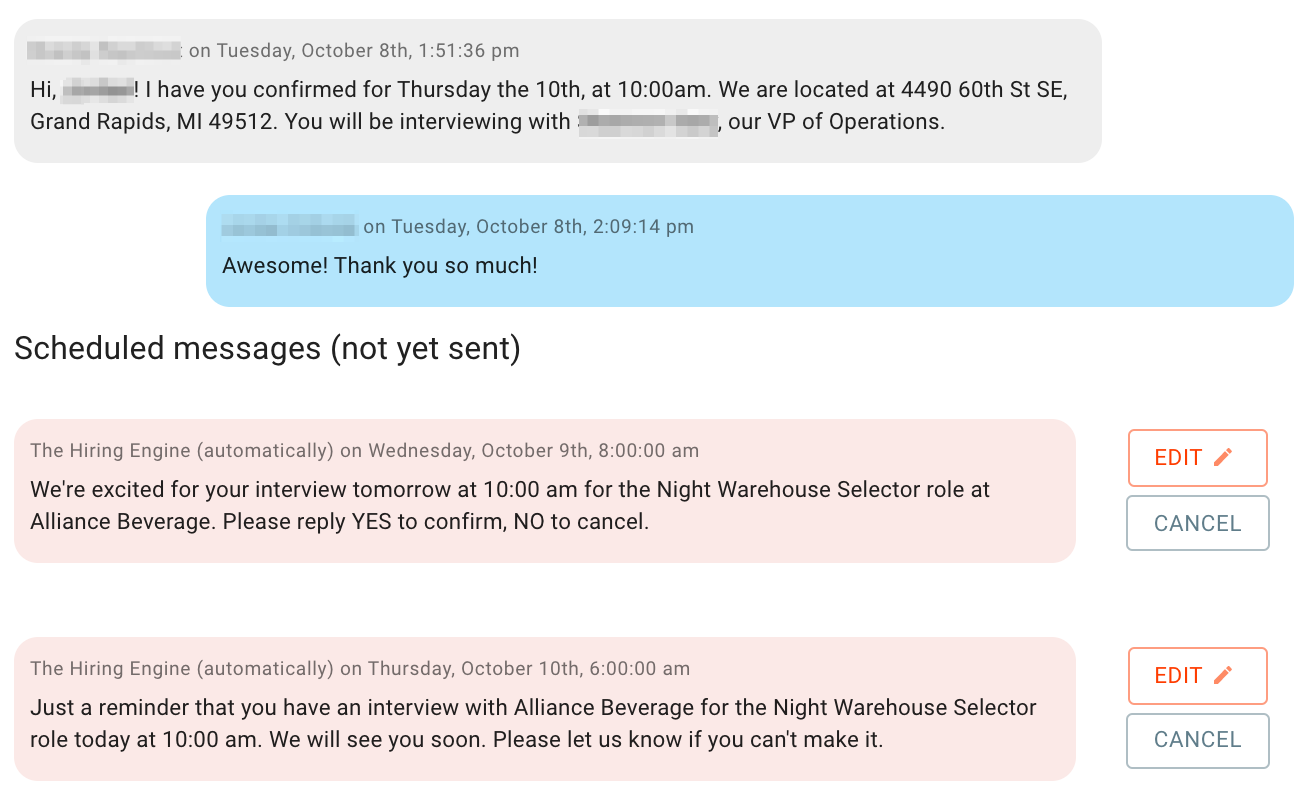 It was frustrating for her when a candidate wouldn't reply, and it can be equally disheartening for a candidate when they don't hear back about a position. The Hiring Engine enabled Alliance to prioritize the conversations that need follow up, while also keeping applicants engaged in the process with automatic messages. 
In The Hiring Engine, Alliance can choose to reach out to candidates any way they like - from drafting emails to sending texts - all in one place. The Hiring Engine reaches out to people the way they prefer, and will automatically switch to email when an applicant doesn't want to be reached via phone.

Not only is every text message and email there to see in order, but it also gives Meaghan the privacy she needs when the workday is done. For every new job that Alliance creates, The Hiring Engine buys a local phone number that it uses to send texts and make calls, instead of forcing her to use her own cell phone. In her words, "we live in a texting world, and I like that you don't have to use your own phone to text people". Not only does it work for texts, but you can call applicants right though The Hiring Engine as well. Say goodbye to unwanted messages and calls after hours!